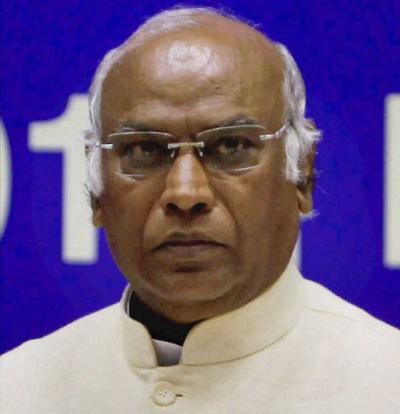 Aditi Tandon
Tribune News Service
New Delhi, January 11
The Congress has opposed the decision of a high-powered committee to remove Alok Verma as CBI chief saying it was "grossly unfair" to do so without hearing Verma's response to charges contained against him in the CVC report which the apex court held illegal on January 8.
In a four-page dissent note to the selection committee for the CBI chief on Thursday, Leader of the largest opposition party in Lok Sabha, Congress's Mallikarjun Kharge said Verma should be allowed to explain himself and compensated for the loss of 77 days caused due to "illegal" orders of the CVC and DoPT dated October 23, 2018 sending him on forced leave.
Prime Minister Narendra Modi and Justice AK Sikri are the others in a three-member committee which removed Verma on Thursday night.
Earlier, in the committee meeting, Kharge cited the SC judgment saying "the judgment has clearly stated that the order passed by the CVC (to send Verma on leave) was illegal and the SC left it to the judgment of the high-powered committee to restore the full extent of authority enjoyed by the CBI".
"Having examined the CVC report, it's my opinion that Alok Verma be allowed to explain himself before this committee along with the charges made against him prior to any decision being taken," Kharge said in his note.
He made three points–restore the full authority and powers of Verma's office; restore unto Verma his complete tenure that he has been wrongfully deprived of and order a probe into the events of October 23, 2018.
On compensation of the 77-day loss, Kharge reasoned that the apex court treated the "forced leave" of Verma as de facto transfer and struck it down which meant the loss should be compensated.
The Congress leader cited 10 CVC allegations against Verma adding "only four have been prima facie substantiated and six have been found to be false."
"In the four cases where the CVC returns unflattering conclusions about Verma, even the CVC admits there is no proof of pecuniary benefit. While these allegations against Verma should be investigated, to suggest that these are on par with the very serious allegations against Rakesh Asthana, is incorrect. The SC itself has held that mere allegations or circumstantial evidence cannot be the basis for finding a person guilty. It can be inferred that the charges against Verma were not of sufficient significance to even affect the reasoning and scope of SC inquiry. This fortifies my presumption that the CVC report doesn't contain sufficient material to prevent or disqualify Alok Verma from being restored to his full authority."
Kharge sought a probe into the October 23, 2018 events, saying, "There were too many coincidences and unexplained events in the late hours of October 23, 2018, which clearly indict the present government qua malice and mala fides in the summary removal of the now reinstated CBI Director Verma and appointing an interim director in his place."
Substantiated CVC charges against Verma
*Excluded suspect from being named accused in FIR-IRCTC case
*Inordinate delay in finalising probe report in bank fraud case against main accused indicating favouritism
*Attempts to induct tainted officers in CBI
*Failure to take action in gold smuggling case at IGI airport (partially substantiated)
Unsubstantiated CVC charges against Verma
Influenced probe by taking bribe; tried to call off raids in Patna; transferred case related to CBI joint director; received illegal gratification in a land acquisition probe case in Haryana; helped cattle smugglers; interfered in CBI cases against ED officers
Minister Piyush Goyal's tweets 'consistency' jibe on Kharge
Indeed, Mr. Mallikarjun Kharge is a man of amazing consistency.
When Shri Alok Verma was appointed CBI chief by the selection committee, he dissented.
Now, when Shri Alok Verma has been removed by the same Selection Committee, he has dissented.