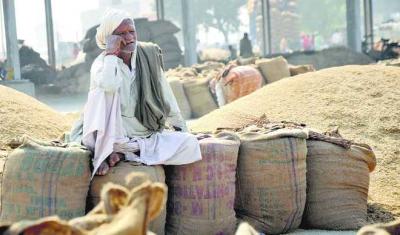 Rural indebtedness in Punjab is not a new phenomenon, though the form and sources of debt have changed significantly over time. The village money-lenders and landlords have been replaced by commission agents and banks. While the penetration of institutional credit has increased a lot, the share of non-institutional credit remains high. It is more so in the case of SC households as nearly 70 per cent of them  hardly have access to institutional loans.
A large number of rural households in Punjab are under moderate-to-heavy debt. The problem is more serious with agricultural households. It is mainly because of the perpetual nature of indebtedness. ML Darling, an ICS officer, in his book (Punjab Peasant in Prosperity and Debt) in 1928 wrote that "Punjab peasant is born in debt, lives in debt and dies in debt". The situation has not changed much over the years.
As per a government-sponsored survey, conducted by three universities (PAU, Punjabi and Guru Nanak Dev), nearly 16,600 farmers and agricultural labourers have committed suicides since 2000. Out of them, 80-85 per cent farmers and 70-75 per cent labourers committed suicides due to heavy debt (outstanding loan). Amongst the farmers, nearly 75 per cent were marginal and small farmers. The farmers are no more interested in agriculture and as per my own study (2015), 80 per cent framers do not want their children to be in agriculture.
According to NABARD, nearly Rs 80,000 crore is the institutional debt on the farmers in Punjab, apart from nearly Rs 20,000 crore non-institutional debts. The average rural household debt varies from Rs 3.5 lakh to 4 lakh. The debt burden of the farmer-suicide victim households is higher than this. According to a CRRID study (Satish Verma, 2015), the share of non-institutional loan varies from 35 to 40 per cent and 'arhtiyas' account for nearly 75 of the loan amount. Their rate of return ranges from 18 to 30 per cent. They also indulge in inter-locking of credit and output markets (forcing farmers to purchase agricultural inputs from particular dealers/shops).
The Green Revolution has come with prosperity and debt for the framers. But the ever-increasing cost of cultivation, deceleration of growth rate of per hectare yield, stagnation in yield, shrinking of per hectare net return, shrinkage of mandays employment in agriculture and non-absorption of the surplus work-force in non-farm sectors has increased their debt burden. Increasing out-of-pocket expenditure on privately sourced health and education services (mainly due to deterioration of public sector services) has further increased the debt burden of all the rural households. The marginal and small farmers and labourers are the worst hit.
In view of the agrarian distress and suicides by large number of framers and agricultural labourers, the Punjab government recently started giving a debt relief (on institutional loan, mainly by cooperative banks) of up to Rs 2 lakh to marginal and small farmers whose debt does not exceed Rs 2 lakh, but there is no relief for agricultural labourers. It is recently read in media reports, the government is thinking of giving debt relief to landless labourers up to Rs 25,000.  Something is better than nothing. But the limit should be enhanced to at least Rs 1 lakh as they, unlike farmers, have nothing to fall back. As regards non-institutional debt, the Government of Punjab has come up with the Punjab Settlement of Agricultural Indebtedness Act, 2016 which was amended in August 2018 as the Punjab Indebtedness (Amendment) Act, 2018. Let us hope that this law does not meet the fate of the Punjab Relief from Indebtedness Act, 1934 under which debt conciliation boards were to be set up but were never set up.
The debt-waiver needs to be taken as a crisis management exercise and not a permanent solution. The most serious issue is to formulate medium and long-term policies so that the problem may not assume a serious form in future. The policy would have to take care of the other distress rural house-holds in addition to farmers and labourers. Agro-processing, value addition and employment generation in the rural non-farm sector is the only solution to agrarian and rural economy's crisis. That would require enhancing the employability of youth with education and skill and re-skilling the surplus manpower in agriculture. 
---
Some loan waiver announcements
Tamil nadu
Announced on may 23, 2016
Rs 5,318.75 crore waived
Covered 12.02 lakh farmers 
Maharashtra
Announced on june 28, 2017 
Worth Rs 30,500 crore
Covered 31 lakh farmers 
Karnataka
Announced june 23, 2017 
Worth Rs 8,165 crore 
Covered 22 lakh farmers 
Uttar pradesh
Announced on april 4, 2017 
Worth Rs 36,359 crore 
Jammu & kashmir
Announced on january 23, 2017
Amount  waived, Rs 244  crore  
Covered 1.15  lakh farmers
Punjab 
Announced on october 17, 2017
Worth Rs 10,000 crore
Covered 10 lakh farmers  
— The writer is Professor of Economics, CRRID, Chandigarh
Please send your feedback to infocus@tribunemail.com