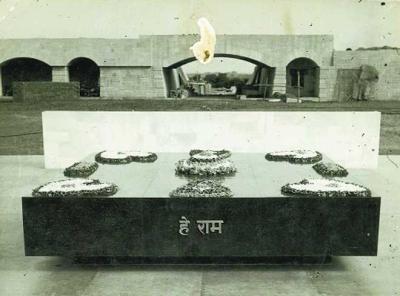 Rasheed Kidwai
Senior Journalist & Author
THE row over a suitable place for M Karunanidhi's burial and memorial has again brought in focus controversies over burials and cremations of top politicians.
The DMK may have emotional reasons to insist for a suitable memorial at the Marina Beach, but in 1975, when K Kamraj, another former towering Chief Minister of the state had died, Karunanidhi, Chief Minister then, had denied the former Congress resident an honour to be buried near Anna Samadhi. A fight had broken out between DMK and Congress supporters over the burial site. Finally, space was allotted at another site near Gandhi Mandapam.
When Rajiv Gandhi was killed at Sriperumbudur, Tamil Nadu, the former Prime Minister's mortal remains were brought to Delhi. A deadlock followed between Rajiv's widow and Caretaker PM Chandra Shekhar who vetoed a proposal to permit Rajiv's Samadhi to a land belonging to Lal Bahadur Shastri's Samadhi. The land was already given to the Central Reserve Police Force and had caused uproar in Parliament.    
In his memoirs, Unfinished Innings — recollections and reflections of a civil servant, Madhav Godbole has recorded how Sonia, Priyanka and Amitabh Bachchan (a close friend of the Gandhis then) had rejected the Chandra Shekhar government's suggestion to carve out a piece of land from Indira Gandhi's Samadhi Shakti Sthal. 10, Janpath reportedly wanted a part from former PM Lal Bahadur Shastri's Samadhi 'Vijay Ghat.'  
Godbole recalls Chandra Shekhar telling him, "How can we justify withdrawing land from the Vijay Ghat when the family already had so much of land under various memorials?"  A sizeable area in a 3-km stretch on the Yamuna bank has memorials of Jawaharlal Nehru, Indira, Sanjay and Rajiv Gandhi.    
Interestingly, Subramanian Swamy, who was the Law and Commerce Minister in the Chandra Shekhar government, acted as peacemaker. He accompanied Priyanka and Amitabh Bachchan to the Rajghat area to finalise the site for Rajiv's samadhi. Even as Chandra Shekhar sulked, Swamy worked with the then secretary of the Union Urban Development Ministry, Madhav Godbole, and a number of other government agencies overnight to evict 1,000 jhuggis (displacing around 8,000 persons). 
When Bala Saheb Thackeray died on November 17, 2012, his body was kept at the Shivaji Park ground in Mumbai. Prithviraj Chavan, Congress CM of a coalition government quickly accorded a state funeral to Thackeray that entailed taking the deceased's body draped in the Tricolour in a procession on a gun-carriage with police or army escorts, besides a 21-gun salute, an honour reserved for those who have held constitutional posts. There was buzz in the Congress that party chief Sonia Gandhi was not pleased with Chavan. Chavan, however, stood his ground, pointing that he was responding to the 'public sentiment'.
PV Narasimha Rao's end came on December 23, 2004. By this time, the Atal Bihari Vajpayee government (in 2000) had passed a Cabinet resolution discouraging samadhis and memorials in the Rajghat area. This decision has been ratified by both the Manmohan Singh and Narendra Modi governments as nearly 245 acres of prime land in the national capital has already been occupied by separate samadhis of leaders like Mahatma Gandhi, Jawaharlal Nehru, Indira Gandhi, Sanjay and Rajiv Gandhi.
During Rao's premiership (1991-96), otherwise a towering Congressman with a career spread over five decades, Rao had been reduced to an unpopular leader within the Congress. The Babri demolition and a series of scandals, palace intrigue and one-upmanship created a sharp wedge between him and 10, Janpath. Many Congressmen were unhappy with the way Rao had sought to implicate many of them in the Jain hawala case. It was October, 1995 and elections were round the corner when Rao had ordered the hawala probe that "fixed" the political careers of many stalwarts. The list of accused included LK Advani of the BJP and Congress leaders Madhavrao Scindia, Kamal Nath, Arjun Singh, ND Tiwari, Buta Singh, Bhajan Lal, VC Shukla and Janata Dal's Sharad Yadav. While each accused got acquitted, Advani did not contest the 1996 elections and, perhaps, missed the chance of becoming PM when Vajpayee was chosen to head the 13-day BJP government. Vajpayee became PM again in 1998 and ruled for the next six years. 
Against this political backdrop, Rao's mortal remains were not allowed to be brought inside 24, Akbar Road (Congress party headquarters in New Delhi) as had been customary for all Congress party chiefs and senior leaders, for this was where homage was paid to the departed leader before the funeral rites. Surprisingly, Sonia and Manmohan Singh's healthy regard for Rao did nothing to prevail upon the party to let Rao's body be kept inside 24, Akbar Road for a few hours as a mark of respect.
There was more humiliation to follow. Despite a special union cabinet meeting at 3 pm scheduled that day, Manmohan and his colleagues failed to decide the funeral arrangements. At his 9, Motilal Nehru Marg, New Delhi, residence, there was nobody from the government or the party to receive the body and place it on a platform, nor flowers, nor any carpets spread by the administration for the mourning crowds to sit on, nor even a shamiana on the lawns. His friend, Kishore Chandra Deo, a Congress leader, finally arranged for a shamiana and flowers. Manmohan Singh looked visibly moved as he remained quietly by the side of the body, which had been brought in from the hospital a little before 5 pm. Sonia also stayed there for a few minutes.
Many years later, Manmohan's media advisor Sanjay Baru admitted that Rao was shabbily treated by both the Manmohan regime and Congress-led Sonia. Baru, who hails from Andhra Pradesh, recorded in his memoirs Accidental Prime Minister and wrote, "When Manmohan Singh went to pay his last respects after Narasimha Rao's death, Sonia's political secretary Ahmed Patel reportedly asked him to "encourage" Rao's family to take Rao's body from New Delhi to Hyderabad for cremation. "Clearly, it seemed to me, Sonia did not want a memorial for Rao anywhere in Delhi."  Ahmed however, feebly denied Baru's allegation, saying that Rao's family wanted the cremation in Hyderabad.
When Charan Singh had passed away in May 1987, his son Ajit refused to hold the cremation till the Rajiv Gandhi government agreed to sanction "Kisan Ghat" in the Rajghat area. Rajiv had initially dithered, but caved in when farmers' leader Mahendra Singh Tikait threatened to lead a march of lakhs of farmers from western Uttar Pradesh to Delhi  to "uproot" the samadhis of Mahatma Gandhi, Jawaharlal Nehru and others.