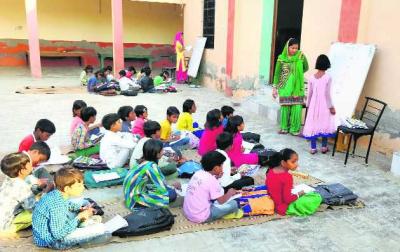 Deepender Deswal
A group of educationists under the aegis of Aarambh, an NGO and educational and welfare society, has started evening classes for children belonging to poor families at Kaimari village of Hisar district. Around 120 students of Class I to VI, who are enrolled in the government school in the village, are given tutorials in the evening every day.
Umesh Sharma, who is running Nai Raahein school for underprivileged children in Hisar since 2012, came up with the idea to hold remedial classes for such students in view of the poor exam results in villages. "By virtue of my experience of Nai Raahein, I realised that better schooling at the basic level can help in improving the standards of education among children. Nai Raahein enrolls students from nursery to Class V. After passing out of Nai Raahein, students get admission to good private schools under the provisions of the Right to Education Act on the basis of their performances," he says.
Aarambh has prepared a model of education for all students from Class I to VI. "We selected the government school at Kaimari village where only two of 28 students passed their matriculation examinations last year," says Sharma. The no-detention-policy was the main reason that students were promoted to higher classes without having acquired reading and learning abilities. The school authorities refused permission for evening classes. Now, classes are being held in a Dhanak community hall at Kaimari village.
Of the total 300 students, 120 are attending the classes. There are four qualified women teachers in Kaimari village who are providing their services for a meager salary of Rs 3,000 per month. The students have been categorised into four levels, according to their reading and writing abilities. There were some Class V students who could not read and write even like lower class students.
The NGO had a tough time starting classes in Kaimari village as they got no cooperation from the Education Department and the panchayat. Sharma says that Gugan Ram Godara (84), a retired professor from a Government College, helped them and encouraged parents to allow their wards to attend the remedial classes.
Devender Singh, District Elementary Education Officer, says that it is an appreciable initiative which will help weak students to perform better.
Suman Rani, one of the teachers, says, "After two months, students are disciplined and are taking studies seriously. We want them to get attuned to the syllabus of their classes by the next session".
She says she was shocked to find the level of education of these students. "They need better guidance and teaching aids for studies. They have the capability to compete with the students of private schools," she adds. Chander Mukhi (60) takes her two grandchildren to the evening classes every day. She says it is a godsend opportunity for them. "A teacher in the government school had assured me that one of my grandsons is good at studies. Now, I have realised that he is unable to even write the alphabet of English," she adds.