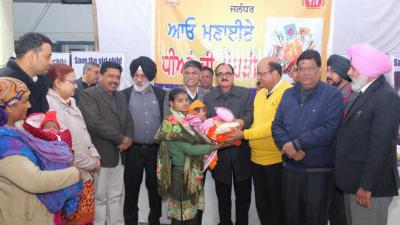 Tribune News Service
Jalandhar, January 11
An event called 'Aao Manaiye Dhiyan di Lohri' was organised by the Health Department here, during which a total of 51 girls were honoured.
Civil Surgeon Rajesh Kumar Bagga lit up the 'Lohri' bonfire and said a sea change was needed in the mentality of people and girls needed to be being given due respect in every field.
Dr Surinder Kumar, District Family Welfare Officer, also stressed that giving due respect to girls was very important. Assistant Civil Surgeon Dr Shamsher Singh Maan, District Immunisation Officer Dr Tarsem Singh; District Dental Health Officer Dr Gurinder Kaur; among others, were also present.
The Punjab Institute of Medical Sciences (PIMS), also celebrated 'PIMS di Lohri'. Celebrations begun with the lighting up of the bonfire by Resident Director Amit Singh and Director Principal Dr Kulbir Kaur.
Entire PIMS faculty, including doctors, nursing staff, MBBS students and paramedical staff gathered to celebrate the 'Lonri'.
A kite-flying competition was also organised for the PIMS staff. During the competition, the sky was filled with colourful kites.
'Giddha' and 'Boliyan' were performed by nursing staff and 'Nukad Natak' was also performed.
Amit Singh, Resident Director of the PIMS, greeted everybody and said: "The 'Lohri' reflects the rich heritage of the state, adding that, such occasions help the younger generation to connect with the old routes of culture and heritage of the state."
Dr Kulbir Kaur, Director Principal of the PIMS, said: "Like people celebrate 'Lohri' on birth of baby boy, they also celebrate 'Lohri' on the birth of baby girl, which is not so common in our society."
"She said: "Nowadays, both boys and girls are looked up equally. She also requested to stop female foeticides." Staff members danced to the beat of Dhol DJ and enjoyed the day in high spirits.