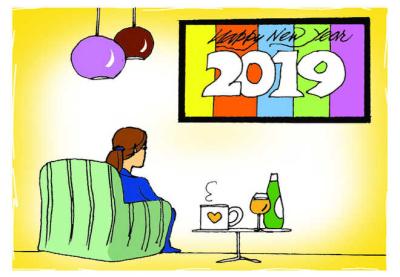 Aradhika  Sharma
When I went into the cafeteria to fetch my customary 4 o'clock cup of tea today, I found an excited group of 'new joiners' in the middle of an animated discussion. They smiled, greeted me politely and invited me to join them.
"What are you girls discussing?" I asked.
Joiner 1: Oh, our New Year eve party plans ma'am. We're in a fix.
Me: Why?
Joiner 2: We must do something awesome on New Year Eve, na.
Joiner 3: But honestly, I don't even like to go to these parties. It's cold and crowded and you don't even get proper food.
Joiner 1: Plus, you've got to find someone special to celebrate with! Where is one supposed to find the 'perfect person' every year? Last year I got stuck with this guy who spent hours trying to pick a piece of food out of his teeth.
Joiner 2: Better than my date who talked non-stop about strength training and fitness all evening. Boringggg! 
Me: Sounds like New Year's Eve brings more woe than joy!
Joiner 1: You better believe it! You're so lucky that you're old, ma'am.
(Old! Me? Darn these pretty young things who think anyone above 30 is geriatric!)
Me: If these parties are so painful, stay home with your friends. How would anyone know whether you're at a party or chilling at home?
The girls stared at me uncomprehendingly. Joiner 2 broke the silence: "Through social media, obviously. How will everyone know that we're having the best time?"
Joiner 1: Last year I went to an acquaintance's house party. It got super crowded and by midnight people were pushing and shoving badly. Someone spilled wine on my dress and ruined it!
Joiner 2: My date turned out to be an awful dancer. He stomped all over my feet and almost fractured them.
Joiner 1: Mine was worse! He drank so much that he passed out.  I didn't know anyone else at the party and had to call a cab to go home. I felt like weeping.
Joiner 2: Really? But you looked so happy and jubilant in the pix you posted on Instagram and Facebook. I felt quite jealous.
Joiner 3: Hmm… The 'likes' I got were the only good part of the celebration.
Joiner 1: But you must agree. Anything is better than being alone on New Year's Eve!
Me (laughing): Every frog isn't a prince and having no one to kiss at midnight is much better than embracing the wrong person! What's wrong with celebrating with family or staying at home?
Joiner 3: No way! You can't be the only one left out while others are having a blast.
Me: Are they? From my geriatric perspective, I can tell you that there's no reason to stress out about this booze-splashed celebration. It's wonderful if your evening is enjoyable but if it isn't, then 2019 can only get better, right?