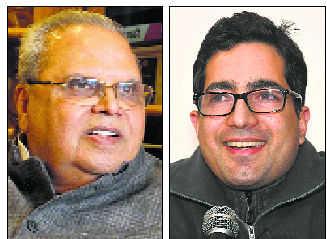 Jammu, January 12
Jammu and Kashmir Governor Satya Pal Malik today said 2009 civil services topper Shah Faesal, who quit the Indian Administrative Service recently, could have delivered better as a bureaucrat than a politician.
The Governor, however, said it was not necessary for him to suggest what Faesal should do in future, even though his best wishes were always with him.
"Shah Faesal was an efficient and dedicated officer who rendered his services with enthusiasm for the welfare of the state and its people, particularly those from weaker sections. He could have served the society better as an IAS officer. 
"As far as his feelings about Kashmiris are concerned, he could be posted in the region where he could work towards ameliorating poverty and creating jobs for the Valley youth," the Governor said in a statement here. Faesal resigned on January 9 to protest "unabated killings in Kashmir, lack of any sincere reachout from the Centre, marginalisation of Muslims by Hindutva forces in the country, insidious attacks on the special identity of J&K and growing culture of intolerance and hate in mainland India in the name of hyper nationalism".
After his resignation, it was being speculated that Faesal would join the National Conference, but he has kept his cards close to his chest. — TNS