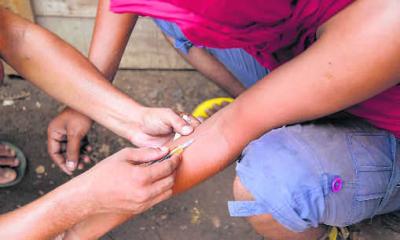 Nikhil Bhardwaj
Tribune News Service
Ludhiana January 11
A 24-year-old youth allegedly died of drug overdose near Jain Mandir, Surya Enclave, Dugri. He was the only brother of three sisters. He got married about a month ago.
A police official investigating the case said it seemed to be a case of drug overdose as injections were recovered from the spot where the youth had died. Even the statement of a friend of the deceased also established that he died due to drug overdose.
The deceased has been identified as Mandeep Singh, son of Ajaib Singh, a resident of Mullanpur. He was working at Davinder's (his friend) shop dealing in installation of the CCTV cameras.
Investigation officer, Assistant Sub-Inspector (ASI), Jagtar Singh, said suspecting no foul play behind death of the youth, so far, inquest proceedings under Section 174 of the CrPC had been initiated. Even the family of the deceased had not sought action against the friend of the deceased.
Davinder Singh, who owns a shop dealing in the CCTV cameras on the Dhandra road, had approached the Dugri police station at around 9 pm on Thursday night and stated that his friend had died due to drug overdose. Mandeep was lying dead in an empty plot in Surya Enclave, he added.
"A police party immediately went to enquire and found the youth dead. Injections were lying near the body. Even friend of the deceased confessed that he along with Mandeep were addicted to drugs. They injected injections filled with drug yesterday evening. Since Mandeep took an overdose of drugs he fell unconscious, but his friend took the limited dose and did not suffer any side effects," the ASI said.
Davinder tried for over two hours to bring deceased back to consciousness, but when he failed in his attempt, he informed the police, he added.
According to the family, Mandeep got addicted to drugs about two years back, he said. "His father is working as security guard in some company. He is the only brother of three sisters, who are married," the ASI added.