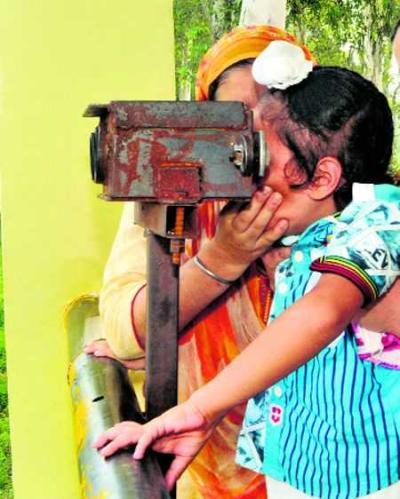 Smita Sharma in New Delhi
"If France and Germany who fought several wars can live in peace, why can't India and Pakistan," said Pakistani Prime Minister Imran Khan at the ground breaking ceremony of Kartarpur Corridor. 
"If the Berlin Wall can fall, then the mistrust between two neighbourly countries, India and Pakistan, can also be removed through revisiting the message of peace and love spread by Guru Nanak," said Harsimrat Badal, Union Minister for Food Processing resonating words of PM Modi who had spoken just two days ago at Guru Parab celebrations in Delhi. In attendance at the ceremony along with Indian ministers Hardeep Puri, Punjab Minister Navjot Sidhu and Indian media delegation was Pakistan Army Chief Bajwa among others. 
External Affairs Minister Sushma Swaraj had cited poll campaign in Telangana to stay away from the function, instead nominating two cabinet colleagues, both from the Sikh community to represent Government of India. The message was clear- Modi government does not want to signal any change in its political or foreign policy stand on Pakistan and terrorism. Kartarpur Corridor would strictly remain a religious pilgrimage issue.
India is unlikely to resume any official bilateral dialogue with Imran Khan government till 2019 general elections concludes. But hope remains that experts, likely to be officials from MEA (Ministry of External Affairs), MHA (Ministry of Home Affairs), BSF and other relevant stakeholders can sit down with their Pakistani counterparts to hammer out operational details of the corridor. Both countries exchanged note verbales indicating their consent to the corridor on 22nd November. 
"There has been an in-principle agreement to make a corridor and both sides have inaugurated it. Beyond it there is no decision. Experts have to sit. Bunch of proposals are there on table from Pakistan but they have to be negotiated," said an Indian diplomat. For now both governments are developing infrastructure on their respective sides.The nearly four kilometres corridor connecting Gurdwara Darbar Sahib in Pakistan's Kartarpur —final resting place of first Sikh Guru Nanak Dev— to Dera Baba Nanak shrine in Gurdaspur district in India near International Border, has a Ravi river crossing too.
The nearly kilometre long bridge across Ravi on the Pakistani side, destroyed in the 1965 war, will take a few months for construction. India has said it will require around four months for developing its side. Paksitan has indicated willingness to give visa free access to Sikh and non Sikh pilgrims from India. Meeting point at the IB, check post and documents required for travel, nominal fees to be paid by pilgrims, mode of travel on bus or on foot, and if it will be a one day visit or any different are among various fine points that need to be finalised. 
Islamabad though hopes that even as BJP government focuses on 2019 polls, people to people ties including resumption of bilateral cricketing can be moved forward with. "The Pakistan hockey team is in India. We should start cricket atleast. It is our loss and we are simply benefitting Dubai and Malaysia as of now. We are very clear that we have to change this narrative," said Fawad Chaudhary, Pakistani Information Minister speaking to The Tribune from Islamabad. "We have a selfish interest . We think that CPEC (China-Pak Economic Corridor) project on which 46 billion usd has been already spent and 66 billion usd will come in over next five years, can be only utilised when we improve our ties with India and Afghanistan is stable," added Chaudhary.