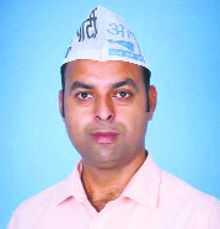 Nitish Sharma
The Aam Aadmi Party (AAP), in its bid to showcase the achievements  of the Delhi Government to Haryana people, has decided to show videos of mohalla clinics, anganwadis, polyclinics and government schools of Delhi and also good feedback from Delhi residents to counter the Haryana Government.
Videos being shot in Delhi will be shown to people of Haryana this month. The idea is the brainchild of Abhay Saini, Ambala district president of AAP, but the senior party leadership has decided to execute it across the state.
Saini says, "The party has decided to show short films and videos to the people of Haryana in order to showcase the work done by the AAP government in Delhi and to counter the BJP, the Congress and the INLD. We will use projectors under the campaign and volunteers will try to reach out to the maximum number of people, especially in villages, to make them aware about the achievements of the Delhi Government and the wrong policies of the BJP government in Haryana."
"Besides videos showing Delhi residents talking about improvements in health care and educational facilities and also about water and electricity bills, there will be videos of famous people who had visited mohalla clinics. There will also be cuttings of various newspapers and letters of commendation, including the one from former Secretary-General of the United Nations Kofi Annan who had praised the Delhi Government for its mohalla clinics," he adds.  
"We have started inviting people from Ambala in groups for a one-day visit to mohalla clinics, polyclinics and government schools in Delhi. So, in order to spread the message to the maximum number of people, it has been decided that through videos we will showcase the views of people of Delhi and the work done by the government," he adds.
Saini says, "In the beginning, two teams will start the campaign in Ambala and then more teams will be deployed, considering the response. People have heard about the Gujarat model, but we are confident that they will like the Delhi model when they learn about it through the videos. Volunteers will meet people and tell them how the AAP government has improved the condition of schools and hospitals in Delhi. Besides, private schools have not been allowed to increase fees."
He says, "Though we will try to show videos to people belonging to all sections of society, the targeted audience will be those who go to government hospitals for treatment and enroll their children in government schools, as they will be able to feel the difference between schools and hospitals in Haryana and Delhi."
"By showing videos, the volunteers will ask a simple question to people that if the Delhi Government can work on these issues in just three years, why the Haryana Government has not done anything in more than four years," says Saini.
---
The party has decided to show short films and videos to the people of Haryana in order to showcase the work done by the AAP government in Delhi and to counter the BJP, the Congress and the INLD. We will use projectors under the campaign and volunteers will try to reach out to the maximum number of people, especially in villages, to make them aware about the achievements of the Delhi Government and the wrong policies of the BJP government in Haryana..—Abhay Saini, Ambala district President of AAP