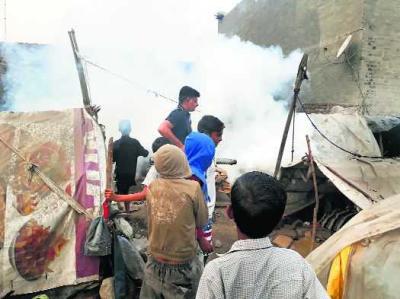 Mukesh Tandon
Members of the Sahyog Parivar, a social organisation in Panipat city, are working to eliminate dengue and malaria. They have purchased three fogging machines and two spraying machines and are using them in colonies and adjoining villages.
 Gaurav Lekha, coordinator of the Sahyog Parivar and president of Insaar Market, says that the campaign was started in 2016 with distribution of hot tea and eatables among poor people sleeping in the open during the winter. 
Originally, the organisation was named the Sahyog Charitable Trust but its members decided to call it Sahyog Parivar to spread the feeling of a family among themselves, he adds. 
"We have also started a programme to give stationery items to poor students and collect the requisite material for the purpose in February every year," says Lekha. But in 2017 the trust members decided to launch a campaign to eliminate dengue and malaria, he adds.  
The diseases spread after the rainy season, and long queues of patients are seen in government and private hospitals but the Health Department and the municipal corporation have not been able to ensure fogging in the affected areas, he adds. 
Meanwhile, the death of two youths due to dengue in Panipat city prompted us to purchase a fogging machine and we started fogging in outer colonies on our own, says Lekha.
The Sahyog Parivar, which was started with three or four members, has now become a family of more than 15 members. Jagdish Mehta, Raju Mehandiratta, Dev Garg, Ricky Arora, Mohit Bajaj, Vicky Batra, Vaibhav Chhabra, Vikas Bhatia, Nikhil Soin, Nitin Futela, Vishal Bhatia, Deepak Saluja and others are our team members and we are serving society selflessly, he adds.
"We have been regularly doing fogging in the outer colonies and around 15 villages adjoining Panipat city for the last two years," says Lekha. Raju Mehndiratta and Deepak Saluja say, "The team members arrange all material and petrol for the machines from their own resources," he adds. 
The municipal corporation has provided medicine for fogging to our team many times and sometimes we purchased it, says Lekha.
For the fight against dengue, we had to make a full-proof strategy, as we had to move to the selected spot thrice, he adds. "We have also purchased two special machines to spray anti-larva medicine in drains to stop their generation," says Lekha. Besides, the members provide warm clothes and food to needy people, he adds. 
"We also organises blood donation camps, and give aid for the treatment of poor children. All those who support our organisation, needy and poor people in any manner are members of the Sahyog Parivaar," says Lekha.